Your organization is producing multiple documents for business purposes which requires multiple signatories to sign. Then there could be rare chances that you are not using the digital signature token to sign these documents.
Digital Signature Certificate is widely accepted by companies, professionals and is legally valid in the court of law.
Every organization wants to venture into a paperless organization for that same purpose they start using either a Digital signature or Electronic signature. A digital signature is more widely accepted now.
The main reason behind it is, the physical signature can easily be forged or tampered with.
Organizations are not fully aware of how to move in the direction of true paperless organizations. Read this guide to understand different ways to sign pdf documents using DSC.
Before we start on different ways to sign pdf documents, I would like to give you a small idea about what is DSC.

What is DSC (Digital Signature Certificate)?


A digital signature certificate is a digital key that is an alternative to handwritten sign. Certifying authority issues this key by validating the identity of a signatory. It works on PKI technology to sign document digitally. It also eliminates the tampering of handwritten signatures.
Generally, DSCs are used for signing invoices, form-16, many more PDF documents produced by an organization. These documents are treated at par with handwritten signature documents.

Read more: What is DSC and how DSC works?
Below is the sample image of the digitally signed document.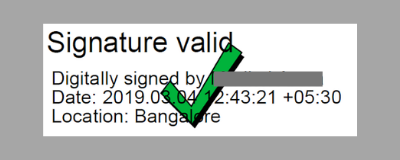 Now since you have a fair idea about the DSC this would be the right time to understand different ways to sign PDF Documents.


Different Ways to sign PDF Document
Below are the best ways to sign PDF documents with ease.
1) Using PDF Signing Software
PDF Signing Software is a flexible Windows application to digitally sign PDF documents. It provides intelligent watched folder automatic monitoring or automated digital signing solution of one or more Windows folders to process batches of the document in an unattended environment.
PDF signer software represents one of the simplest ways to utilize the power of digital signing within organizations as it requires no programming. You can be up and running to sign your important corporate documents, such as e-invoices signed in minutes by using this powerful yet simple application.

How to sign PDF file with PDF signer software?


Selection of Files: PDF auto signer will provide you a configured input folder where one needs to put his/her files requiring digital signatures.
Selection of Signature profile: You can configure multiple signatory profiles and save them in a folder. Hence there is no need to configure the same signature again and again. Auto signer generates a signature based on the selected profile.
Run the program: The program will place your signatures at your configured locations. And this happens very fast, some software does this job in complete automation mode.
Files ready to email: Digitally signed document will be saved under output folder. You can use this folder to email required documents. Also, if the tool finds an error with the document then it places it under another folder which you can check later.


Read also: How to configure PDF signing Software


2) Using Hardware Security Module (HSM)
A Hardware Security Modules (HSM) is a physical computing device that safeguards and manages digital keys for strong authentication and provides crypto processing. These modules traditionally come in the form of a plug-in card or an external device that attaches directly to a computer or network server.
Note: HSM requires a special type of signature certificate known as Class 3 Signature and Encryption certificate. This is different from DSC.
Generally, organizations need to migrate on HSM-based signing due to several factors. Organizations having thousands of documents to sign on daily basis should move in the direction of HSM-based document signing.

The process of Signing PDF Document with Hardware Security Module (HSM)


If an organization is using the HSM, then the certificate and keys would be stored in it and not on any DSC token. When the PDF document signing software needs to sign a PDF document, it would retrieve the certificate and keys from the HSM and will complete the signing operation.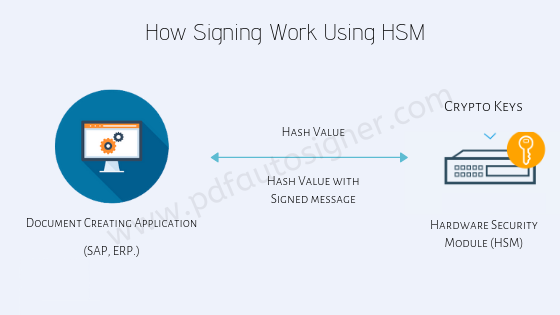 All the signing operations are performed within the secure boundary of the Hardware Security Module (HSM) so that the keys are not visible outside the HSM.


3) Using Adobe Acrobat Reader
Acrobat Reader is the most popular PDF reader, over years more and more users have been accepting this tool for viewing PDF files. Acrobat Reader also allows you to sign PDF documents with ease and I will try to give you a brief of steps here.
Open your PDF document and click on Tools from above and select Certificate.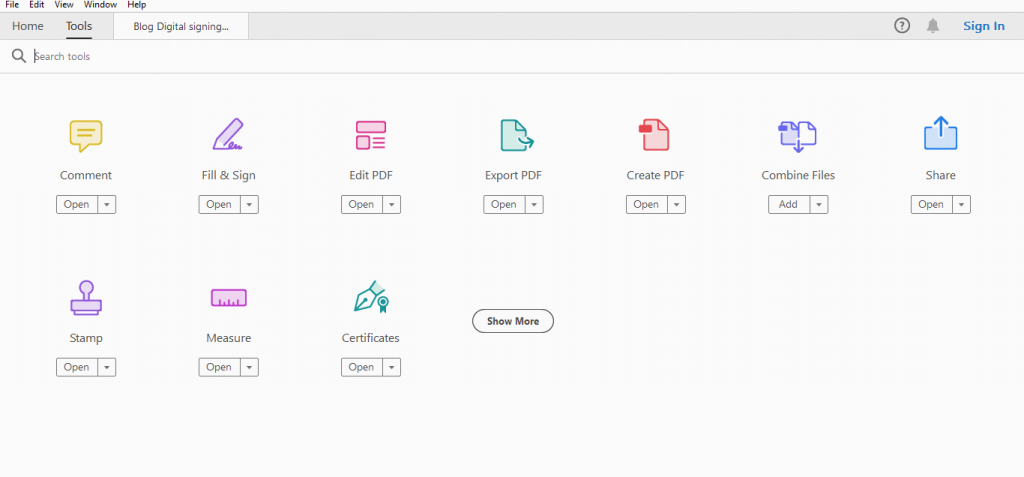 2. Now select your desired DSC from the respective folder location.
3.Upon selection, this tool will sign a PDF document. Now it is ready and you can choose the folder to save this document.
With all these methods you can certainly reduce your effort to sign PDF documents and take your organization to a paperless office. Simultaneously you can avail a free trial of PDF document signer to test your requirement.